MONTHLY OUTINGS
Every month (except June and December) we have a driving event to some interesting destination within a 1/2 to 2 hour drive. The event usually includes a brunch or lunch. The event's vary in price depending of the charge or admission cost of the venue (if any) and the cost of the meal. We meet at a designated location and we caravan to our destination as a group as we get a lot of admiring onlookers seeing a line of two-seater Thunderbirds all in a row. Below are just a few of the places we've visited. Our club has been around since 1958 and know of a great many fun places to go!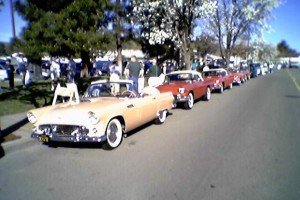 Saint Patrick's Day Parade, Dublin
We offer our cars to show in parades and occasionally carry a dignitary or two.  There are parades all over the San Francisco Bay Area in the summertime.
Anniversary Picnic at Mt. Diablo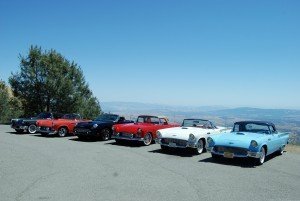 Every year Khayan holds an annual anniversary party to take pride at being the oldest Thunderbird club in the world.  We sometimes have a picnic or have an indoor event at a hotel or resort. (Khayan still has some members that were there at the beginning in 1958.)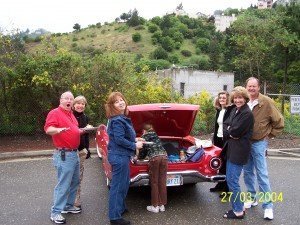 Caldecott Tunnel Tour
We occasionally due some rather unusual events not readily available to the public.  We were able to arrange a tour of the Caldecott Tunnel which is not something they usually offer.  It's amazing to see how much goes into something as simple as a tunnel!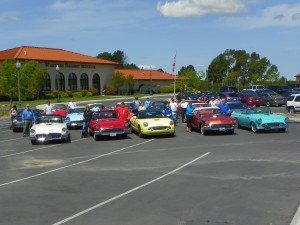 Western Railway Museum Tour
Trip to the Western Railway Museum which was one of our all time best.  The museum promotes the study of electric railways, their physical equipment, properties and operations in northern California and the West. We had tours, rides on several trains and a great meal.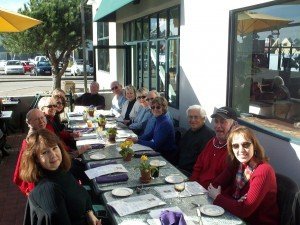 Beach Trip to Capitola
We toured the beach in and around Capitola with beautiful scenery, fun shopping and great food.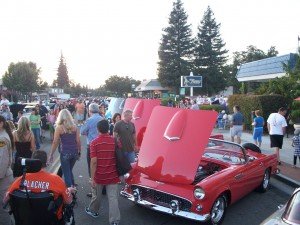 Hot Summer Nights Car Show
Every summer Khayan participates in the Danville Hot Summer Nights car show where we were the featured car in 2015. This is a great opportunity to show off our cars and to see a lot of other classic cars as well.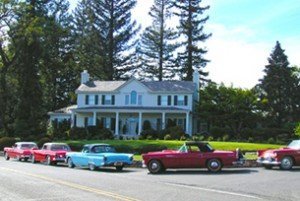 Livermore Winery Tour
Winery tours are one of our favorite events and there are plenty of them around, not just in the Napa Valley. Here was a winery trip to Livermore.  Livermore Valley wineries were the first to bottle varietal labeled Chardonnay, Sauvignon Blanc and Petite Sirah. Nearly 80% of California's Chardonnay vines trace their genetic roots to a Livermore Valley clone. Livermore Valley also boasted more than 50 wineries until Prohibition.